All Protect Systems offers complete fire extinguisher and fire hose inspections, service, maintenance and supply of new components. All service is performed in our service facility located in Waterloo, ON. The Ontario Fire Code requires that portable fire extinguishers be inspected annually in accordance with NFPA10. In addition to regular inspections fire extinguishers also require maintenance every six years and every twelve years from the date of manufacture.  Every six years dry chemical extinguishers are required to be discharged, all components thoroughly examined and the extinguisher recharged. Every twelve years from the date of manufacture the extinguisher cylinder requires hydro-static testing (pressure testing with water) and internal examination. This ensures that the cylinder is free of defects and can withstand pressure. If it fails the test, then it would have to be replaced.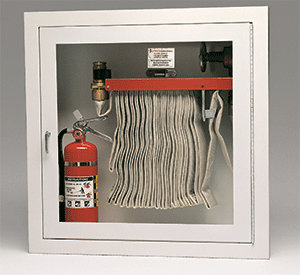 During your annual inspection, our qualified technicians will also inspect and rerack your fire hoses. This inspection includes unracking of hose, unreeling or unrolling and re-installation and inspection of hose nozzle. In accordance with NFPA requirements, fire hoses require hydro static testing when they have been in service for five (5) years, then every three (3) years afterward. The Ontario Fire Code does not mandate pressure testing of fire hoses at certain intervals however we highly recommend this maintenance to ensure continued integrity and reliability.
Call us today to discuss your fire extinguisher and hose requirements at 888-892-9185 or by email to sales@allprotect.ca.
Servicing Kitchener, Waterloo, Cambridge, Guelph, Elmira, New Hamburg, Wellesley, Listowel, Stratford, Woodstock, and surrounding areas, we are the experts in fire and life safety systems.