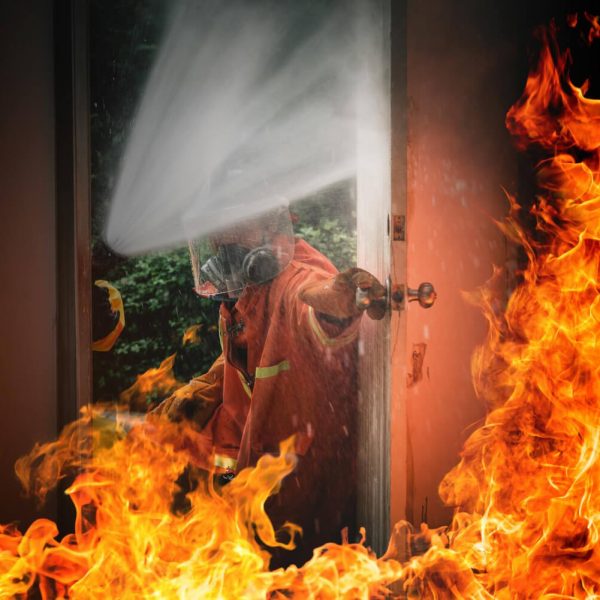 Fire safety is a big part of staying safe in the event of a fire. Ontario recorded one of its worst years of fire-related deaths in 2021 with 124 cases. 2022 proved to be just as deadly with 102 deaths reported by October.
The constant threat of both residential and commercial fires means you have to be informed and take steps to learn about the latest fire safety guidelines and regulations.
That's why in this article, we discuss fire safety in 2023 including trends and best practices.
Best Practice #1
Install Smoke Detectors and Routinely Service Them
The first step to preventing major fire disasters is to have working smoke detectors in your home and workplace. Once you've installed the smoke alarms and detectors, ensure you routinely check and replace batteries as needed.
This is absolutely pivotal as smoke detectors and alarms save lives. Statistics show that between 2011 and 2022, at least 14% of unintentional residential fire-related deaths transpired in homes without a smoke alarm (8%) or where the alarm was non-functional (6%).
Best Practice #2
Develop and Practice Your Evacuation Plan
Do all the members of your household know what to do in the event of a fire? On top of having functional smoke alarms, you've also got to have a strategic escape plan.
It's also crucial that you regularly practice the evacuation plan. It must be a comprehensive scheme that also highlights things like where the designated meeting point outside your house is.
During your practice runs, train everyone to familiarise themself with the different ways to get out of the house and or office and how to open exit doors or windows.
Best Practice #3
Keep Flammable Materials Away From Ignition Sources
Do you know what's the most dangerous thing you could do in your house or office? Keeping flammable materials close to heat sources. This is a recipe for disaster. Think of when you leave dish towels next to a gas burner or an aerosol can of perfume next to a lit candle. That's a fuel and an ignition source, and under the right conditions, they have the potential to burn your house or workplace down within minutes.
So, take a quick look around the house and workplace. Do you have billowing curtains that need to be secured? Furniture that could be an easy fuel if a candle or cigarette were to accidentally fall on them?
Whatever has the potential to catch fire should be kept at least three feet (91cm) away from ignition sources like heaters, stoves, and candles. The area near these heat sources should also be left clutter-free and clean.
Best Practice #4
Store a Fire Extinguisher in Your Kitchen
Do you know in which room most fires tend to start? If you said, the kitchen, you're correct. When you're preparing food, avoid leaving it unattended. We recommend also keeping a fire extinguisher in your home.
Grease fires are extremely dangerous and can spread quite fast. Ensure you purchase a Class B fire extinguisher for the kitchen as it's particularly suited to put out fires that involve gases, flammable liquids, cooking oils, and grease.
Best Practice #5
Avoid Leaving Cigarettes and Candles Unattended
For a fire to start, three things are involved: a fuel source (e.g. clothing, furniture, flammable liquid), oxygen (which is readily available in the air), and an ignition source (e.g. candles and cigarettes).
If you're a smoker, be careful where you smoke and how you dispose of your finished cigarette. It's not enough to just casually throw it on the ground and stomp it out. Make sure it's properly snuffed out because it only takes one gust of wind to carry that smouldering cigarette to fuel and start a blaze.
If you like lighting candles around your house, never leave them in rooms unattended. Light the candle and keep it in a place where you can keep your eye on it.
Best Practice #6
Understand the Different Types of Workplace Fire Hazards
With remote work slowly becoming a thing of the past and most employees returning full-time to the office, it's key we take time to address workplace fire hazards. Places of business also have fire safety procedures that you're supposed to know and follow.
While it is the duty of the company you work for to create a safe working environment, as an employee the onus is on you to learn workplace fire safety best practices.
You want to know what to do and where to go in case of a fire. So, take time to know where the fire exits nearest your desk or office area are and the location of fire extinguishers. This should become easier to remember when you all practice the evacuation plan as a team.
Best Practice #7
Remove Obstructions to Exits
The last tip we have is to keep all exits unobstructed. No objects should block the doors preventing easy access to them. Hallways and stairways must be cleared of all clutter.
It is the employer's duty to make sure that all egress means are clearly marked and luminescent safety signs are mounted to guide evacuees out of the building should there be a power cut.
The Bottom Line
In conclusion, fire safety in 2023 should be a top priority for everyone – parents, homeowners, directors of care homes/nursing facilities, and property managers. By following the guidelines, trends and best practices outlined above, you can help to reduce the risk of fire in your home and workplace.
If you're a business owner thinking about fire safety training for your team, we want to highlight the necessity of also being aware of provincial-specific fire safety regulations. If you're unsure about what these are, our team here at Nutech Fire Prevention is ready to assist with more information.
That's not all we do however, as we also offer a comprehensive line of emergency backup generators, fire alarm systems, fire warning systems, fire extinguishers, emergency lighting, exit lighting, fire safety plans, sprinkler systems, and gas detection services.
Request a free quote today.
Looking for more insight? Check out these previous posts:
· How to Plan a Fire Evacuation Plan for Your Business
· How to Quickly Stop a Fire in the Workplace
·    Fire Safety Training Courses for Canada Businesses
Image: Freepik